The 10 Best WWE NXT Superstars 2017
When I compiled my list of The 10 Best WWE Superstars of 2017, I thought about including NXT superstars on the list, but it seemed unfair after thinking about it. With not the same level of TV exposure and storyline weight, the parameters of compiling this list should be different.
These superstars I've picked due to shown potential, growth in NXT this year, and in-ring match quality. NXT, for the most part, has showcased tremendous talent this year and I have nothing but the best of hopes for these NXT Superstars.
Honorable Mentions
Peyton Royce
Street Profits
Drew McIntyre
Bobby Roode
10. Asuka
Had Asuka been on NXT for the full year, she'd probably be higher on this list.  However, Asuka got injured and was brought back on the main roster on Raw. Before leaving she left us with two NXT classics in her Last Woman Standing match with Nikki Cross and her last title defense against Ember Moon. Thank you for all you did in NXT, Asuka.
Notable Match: Asuka vs. Ember Moon (NXT Takeover: Orlando)
9. SAni†y
It's hard to find someone who can talk on the mic and has great in-ring ability. It's even harder to find that combo in someone who can also be convincing as a cult leader. But Sanity has it in Eric Young. Young is backed by surprisingly high flier Alexander Wolfe and muscle man Killian Dain, both who have become tremendous talents in NXT. Sanity is well equipped to face any opponent in the ring and beat them. SAni†y needs to be called up to the main roster soon as a faction to be feared right off the bat.
Notable Match: Sanity vs. Authors of Pain (NXT Takeover: Brooklyn III)
8. Authors of Pain
Anchored by Paul Ellering, these two have a chance to make a shakeup in the current WWE tag team scene. There hasn't been a duo of strong men who got over as a tag team in WWE in a long time. We can only hope the best for Akam and Rezar as they go forward and destroy everything in their path to hopeful main roster gold.
Notable Match: Authors of Pain vs. #DIY vs. The Revival (NXT Takeover: Orlando)
7. Johnny Gargano
Johnny Wrestling started the year as half of D.I.Y. a tremendous technical wrestling team with Tommaso Ciampa. The two had classic tag team matches, but then the latter turned on the former. Now Johnny is on a singles run and is already the #1 contender for Cien Almas' title after winning a brutal 4-way match at the last NXT of 2017. The Sky's the limit for Johnny. Let's just hope that he doesn't end up on 205 Live.
Notable Match: Johnny Gargano vs. Aleister Black vs. Killian Dain vs. Lars Sullivan (NXT 12/22)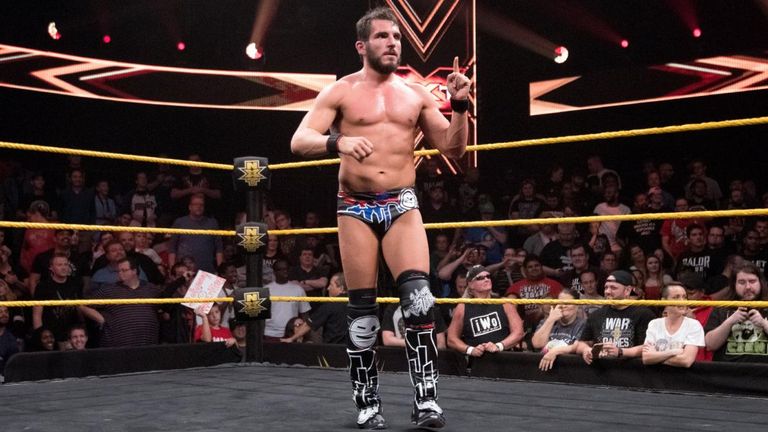 6. Roderick Strong
Roderick Strong is an excellent talent. His in-ring ability is great, but it seems like he's missing an edge or something else to him to give him that push. He has a very Dean Malenko type feel without the intensity behind it. His technical brilliance has got him over with the crowd, but this makes me worry about his future main roster showing. Hopefully, he can remain in a good light.
Notable Match: Roderick Strong vs. Hideo Itami (NXT Takeover: Brooklyn III)
5. Velveteen Dream
The star of untapped potential on this list. Velveteen Dream has sky-rocketed up my list of favorites this year. The pace at which he's developing in-ring is phenomenal. His character work is already top notch, and the only question is will WWE let this character translate onto the main roster. If they do, they've got a bonafide star on their hands here. Say his name.
Notable Match: Velveteen Dream vs. Aleister Black (NXT Takeover: Wargames)
4. Nikki Cross
Cross has been my favorite surprise in NXT. After scrambling around for a while as a jobber, she found her place in Sanity, but just lumping her in with the men didn't do her year the justice it deserved.  She is putting on fantastic matches in the women's division including a Fatal 4-Way match for the vacant title and a historic Iron Woman match with Asuka. If WWE books her right she can be a menacing heel for the Women's division on the main roster, something it desperately needs. And with Sanity behind her, it makes her even scarier. Nikki can and is a rare combination for WWE and one that can have massive appeal.
Notable Match: Nikki Cross vs. Asuka (Last Woman Standing Match)
3. Andrade Cien Almas w/ Zelina Vega
Quietly the best story of NXT this year, Almas has found the recipe with success with his manager Zelina Vega by his side. Almas has turned into a fantastic heel, and his manager can work the mic with ease. I hope this pair doesn't get the Rusev and Lana treatment and get split up while they're hot. WWE needs a good management pair, and these two can be it.
Notable Match: Andrade Cien Almas vs. Drew McIntyre (NXT Takeover: Wargames)
2. Ember Moon
The woman who was behind Asuka all year long is now finally atop of the NXT Women's division, and she's earned her position. I wish we could have seen her get a proper 1-2-3 over Asuka for it, but we'll have to settle for the Empress coronating her as champion. NXT is about watching people grow and come into their own and Ember Moon has done just that. WWE should give Ember a strong title run to set her up for main roster success in 2018. Ember will be a boon to either division she enters on the main roster, and I'll be happy when it happens.
Notable Match: Ember Moon vs. Kairi Sane vs. Peyton Royce vs. Nikki Cross (NXT Takeover: Wargames)
1. Aleister Black
Talk about a complete package out the gate. Aleister Black has put on a show all year long in NXT. He's so over it's hard to put him in the title picture and not have it be a predetermined outcome. Black may need to be called up in 2018 relatively soon if they don't plan on giving him a lengthy title run. Black is a gift horse that will kick the teeth out of your mouth, and Vince needs to let him bring the Black Mass to the main roster in 2018.
Notable Match: Aleister Black vs. Hideo Itami (NXT Takeover: Brooklyn III)
Agree or Disagree? Leave a comment below. Then head over to Twitter and Instagram to follow us @Baselinetimes and @TheHoWPod. Peace.
Senior Editor/Heels of Wrestling
@MXMurden on Twitter and Instagram
https://www.baselinetimes.com/wp-content/uploads/2017/12/WWE-NXT.png
720
1280
Markus Murden
https://baselinetimes.com/wp-content/uploads/2017/04/BTheader.png
Markus Murden
2017-12-29 20:30:09
2017-12-29 20:34:31
The 10 Best WWE NXT Superstars 2017